Press Release
PAHO/WHO Representative Suriname and Minister of Spatial Planning and the Environment Meet to Address Health and Environmental Challenges
20 June 2023
The Pan American Health Organization/World Health Organization (PAHO/WHO) Representative in Suriname, Dr. Lilian Reneau-Vernon recently engaged in a productive meeting with Marciano Dasai, the newly appointed Minister of Spatial Planning and the Environment.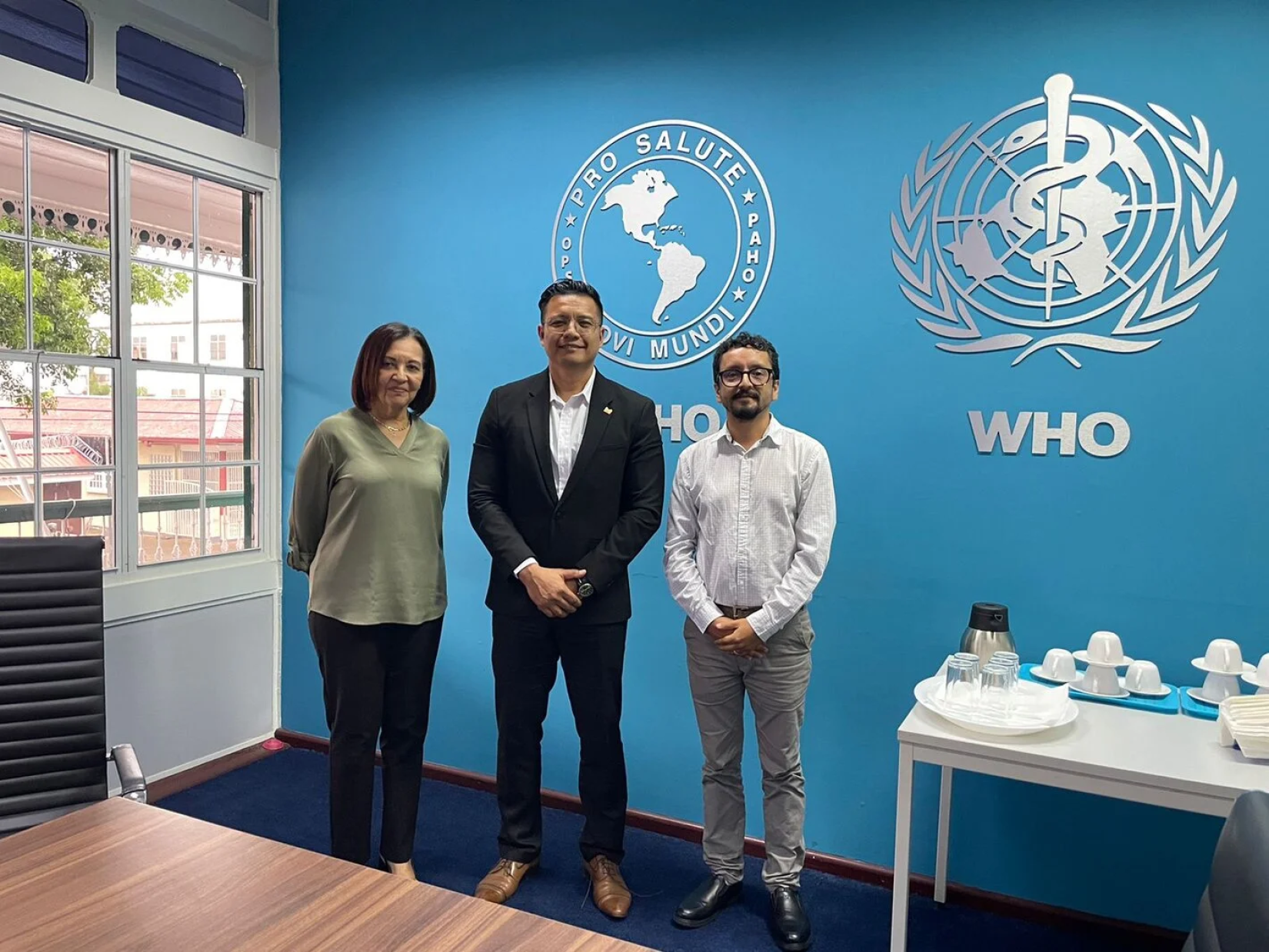 The meeting was also attended by representatives from the PAHO/WHO country office in Suriname and virtually by representatives from the PAHO/WHO Public Health Emergency (PHE) and Social and Environmental Determinants for Health Equity department (DHE) in Washington. The objective of the meeting was to explore potential areas of collaboration between PAHO and the Ministry to address critical health and environmental challenges in Suriname.
During the meeting, Dr. Reneau-Vernon and Minister Dasai engaged in fruitful discussions on the intersection between health and the environment in Suriname. They emphasized the importance of a comprehensive approach that takes into account the impact of environmental factors on public health and the potential health benefits of sustainable environmental practices.
Dr. Reneau-Vernon highlighted the need for coordinated efforts to address issues such as air quality, water sanitation, waste management, and climate change. She stressed that the health sector plays a crucial role in advocating for policies and interventions that promote a healthy environment and protect vulnerable populations.
Minister Dasai expressed his appreciation for the collaboration between PAHO/WHO and the Ministry of Spatial Planning and the Environment. He recognized the importance of integrating health considerations into environmental planning and policies, as well as the value of expertise and technical support from PAHO/WHO in this regard.
Both parties agreed on the significance of strengthening cooperation to ensure a sustainable and healthy future for Suriname. As PAHO/WHO continues to support countries in advancing the Sustainable Development Goals and improving health outcomes, the meeting with Minister Dasai marks an important step in strengthening the collaboration between health and environmental sectors in Suriname. By leveraging their respective expertise, PAHO/WHO and the Ministry of Spatial Planning and the Environment are poised to contribute to a healthier and more sustainable future for the people of Suriname.
UN entities involved in this initiative
PAHO
The Pan American Health Organization
WHO
World Health Organization