Our Team in Suriname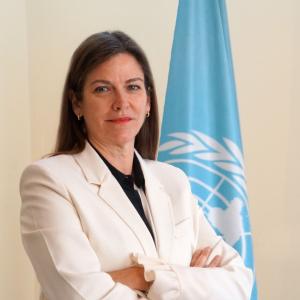 Anna Paolini
UNESCO
Representative in Anguilla, Antigua and Barbuda, Aruba, The Bahamas, Barbados, Belize, British Virgin Islands, Cayman Islands, Curaçao, Dominica, Grenada, Guyana, Jamaica, Saint Kitts and Nevis, Saint Lucia, Montserrat, Sint Maarten, Suriname, Trinidad and Tobago, Saint Vincent and the Grenadines and Director of the UNESCO Office in Jamaica
Previously, Dr Anna Paolini was UNESCO Representative in the Arab States of the Gulf and Yemen and Director UNESCO Doha Office for the Countries of the Gulf and Yemen from September 2013 – June 2022.
She was also UNESCO Representative and Head of Office in Uzbekistan from 2007 to 2009 and later she covered the same position in Jordan. In 1992, she joined UNESCO as specialist in the field of culture at the Regional Office in Amman. In 1997, she moved to UNESCO HQ covering several positions within the Culture Sector including being responsible of movable heritage activities and on heritage in conflict response in the Arab region.

Prior to that, she held a research associate role at the Institute of Architecture of Venice, worked in restoration in Italy and carried out researches in the eld of urban rehabilitation in several Arab and African countries. She holds a Master's degrees in Architecture and a master degree in Urban and Regional Planning for Developing Countries, a post-graduate degree on Development Cooperation, as well as a Ph.D in Urban and Territorial Engineering. Mrs. Paolini is a member of the International Council of Museums (ICOM) and the Italian Association of Professional Architects and author of several papers on dierent cultural heritage subjects.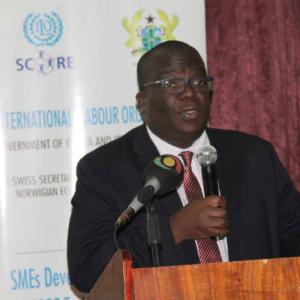 Prior to his role as Director of the ILO Decent Work Team and Office for the Caribbean, Mr. Zulu worked as Director for the ILO Country Office, Abuja with responsibility for Nigeria, Ghana, Liberia, Sierra Leone and as Representative to the Economic Community of West African States (ECOWAS). Prior to that, Mr. Zulu worked in academia and the private sector in his home country. Mr. Zulu holds a degree in Economics and Public Administration from the University of Zambia; a Post Graduate Diploma from Stellenbosch University, South Africa; and a Master's Degree in Business Administration from Mzumbe University, Tanzania.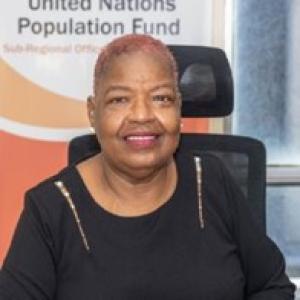 Elizabeth Arnold Talbert
UNFPA
Director and Representative
Ms. Talbert has a strong background in population and statistical development with over 30 years of experience in the Caribbean and East Africa. She has led population and housing censuses, poverty assessment and other social and economic surveys in several countries.

Prior to her appointment as Director at the UNFPA Sub-Regional Office for the Caribbean and Representative to Jamaica, Ms Talbert served as Senior Statistician with the World Bank Poverty and Equity Global Practice in Dar es Salaam, Tanzania where she managed the Statistical Development Project (2014-2021). Under her leadership, this project resulted in the improvement of the statistics law, strengthening of statistical and administrative data, and the enhancement of statistical infrastructure and human resource capacity. During her tenure in Tanzania, she also provided technical support to statistical offices in Zanzibar, Mozambique, Somalia and other East African member states.

In previous jobs, Ms. Talbert served as Chief Statistician, Government of the Cayman Islands (2009-2014); Statistical Consultant, Government of Guyana (2007-2008) and Deputy Chief Statistician, Government of Belize (2001-2007). She has also served as a consultant to the CARICOM Statistical Unit in analyzing and preparing 2000 Census Country Reports.

Ms. Talbert is a native of Belize. She holds a BSc in Sociology and Public Administration, Minnesota State University, Mankato; MPhil in Population and Development, Centre for Development Studies, Kerala State, India and; MS in Demography, Florida State University. She was also a participant in the UNFPA Global Training Programme in Population and Development (1993-1994).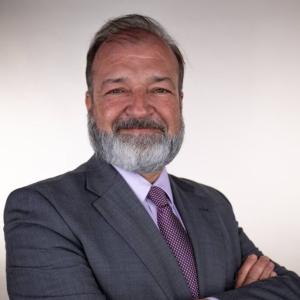 Gerardo Noto
UNDP
UNDP Resident Representative in Guyana and Suriname
Before his position as UNDP Resident Representative in Guyana and Suriname Mr. Gerardo Noto was the UNDP Resident Representative ad interim in Trinidad and Tobago, Aruba, Curacao, and Sint Maarten from September 2022 until June 2023. Citizen of Argentina and Spain. He has dedicated more than 30 years to public service, human development, democratic governance, conflict management, citizen participation and inclusion (women, youth, indigenous peoples, and minorities).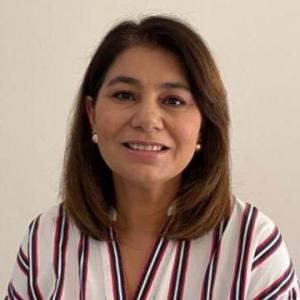 Liliana Garavito
UNIC
Director of the United Nations Information Centre for the Caribbean Area
Liliana Garavito is a Colombia national with twenty-seven years of experience as a journalist and communications specialist. She has worked for twenty-three years with the UN and four years as a news producer.

As the director for the United Nations Information Centre for the Caribbean Area (UNIC Caribbean), Liliana works to educate Caribbean audiences about the work of the UN globally and provides communications support to various UN offices and agencies operating within the Caribbean region.

Before joining UNIC Caribbean, Liliana served as a Regional Communications Officer for the Development Coordination Office based in Panama. This position entailed managing a network of communication professionals across 25 countries. In previous years, she acted as Chief of Public Information and Communication Strategy in the UN Verification Mission in Colombia.

Prior to joining the Mission, she served as Information Officer for 17 years at UNIC Bogotá, which also covers Ecuador and Venezuela, and led public information activities.
Margaret Jones Williams
UNDP
Deputy Representative
In August 2019, Ms. Jones Williams was appointed Deputy Resident Representative and Head of Office at the Suriname UNDP Country Office. Prior to this, Ms. Jones Williams was the Head of Natural Resources Management, Climate Change and Disaster Risk Reduction Unit at UNDP Lao PDR (2014-2019) and Manager of the Environment Unit at UNDP Jamaica (2009-2014). Ms. Jones Williams has a Master's degree in Natural Sciences from the University of the West Indies and a PhD in Environmental Management from the University of Southampton in the UK, where she attended as a Commonwealth Scholar.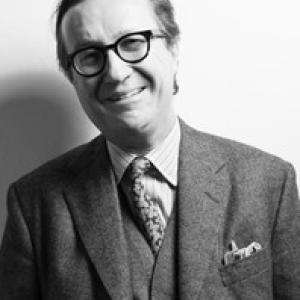 Nicolas Pron
UNICEF
Representative
Mr. Nicolas Charles Pron is the UNICEF Area Representative to Guyana & Suriname, and Special Representative to the Caribbean Community (CARICOM).

Mr. Pron has been working for the United Nations since 1992. Prior to his current posting in December 2020, Mr. Pron served as the Special Adviser on High Level Events, Initiatives and Partnerships in UNICEF's New York Headquarters. He has also served as Director and Secretary of the UNICEF Executive Board and as Special Adviser to the President of the 68th Session of the United Nations General Assembly. Mr. Pron spent many years in the field in Africa and Asia, where he oversaw the implementation of UNICEF Country Programmes.

Mr. Pron, a French national, holds master's degrees in international administration from the Sorbonne University, and in International Law from the René Descartes University in Paris. He speaks French, English, Spanish and Kiswahili.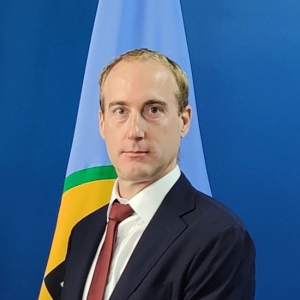 Patrice Quesada
IOM
Regional Coordinator Officer
Mr. Patrice Quesada comes to the Caribbean from the IOM Regional Office in Brussels where he was coordinating the Unit responsible for providing support for the development and implementation of IOM's European Union funded emergency and post-crisis activities and policy guidance on EU-led humanitarian policy files in the region and worldwide.

Prior to joining the IOM Regional Office in Brussels in March 2016, Patrice was the Senior Humanitarian Policy Advisor at IOM Headquarter in Geneva in the Department of Operations and Emergencies. He has been working for IOM since 2008, first in IOM's policy and research department and then in various other capacities. He has been deployed to a number of large-scale crisis contexts to support preparedness, response and risk reduction efforts including in Haiti, Pakistan, Libya, Niger, Côte d'Ivoire, Nigeria, DRC Goma, etc. As of 2013, he began focusing his work on strengthening IOM's humanitarian and crisis response frameworks through policy development.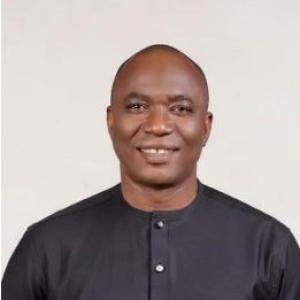 Richard Amenyah
Multi-Country Director for Belize, Barbados, Guyana, Jamaica, Suriname, Trinidad and Tobago, and the OECS.
Richard is a medical doctor by training and brings into this position several productive years of professional experience in Global Health. He joined UNAIDS in 2014 and has wealth of experience in developing public health policies and programs to shape health investments in countries. He previously worked at the Regional Support Team of West and Central Africa as the Regional Investment and Efficiency Advisor. His last duty station was in Nigeria where he supported the setting up of a US$100 million HIV Trust Fund for the elimination of vertical
transmission of HIV, establishment of continuous quality improvement initiatives for the HIV program, governance reform of the Country Coordinating Mechanism and the mobilization of the largest grant for a single country of about US$1.2 billion from the Global Fund for HIV/TB/Malaria/COVID19. He was a member of the core team that developed the current Global AIDS Strategy 2022-2026.

Prior to joining UNAIDS, he worked on regional technical support projects based in Burkina Faso and in Ghana his home country, he was the Technical Director in-charge of strategic planning, HIV program planning and implementation, performance monitoring and donor coordination at the Ghana AIDS Commission.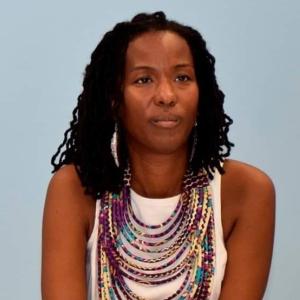 Tonni-Ann Brodber
UN Women
Representative
Ms. Brodber is Representative of the UN Women Multi-Country Office (MCO) - Caribbean, after serving as Deputy Representative from 2015-2020. Before this, Ms. Brodber was the Team Leader for the Advancing Gender Justice in the Pacific programme with the UN Women Fiji MCO. Ms Brodber has served with UNDP in South Africa, with the UN Women South Africa MCO, and established the UN Women Country Office in Haiti. Ms. Brodber received her first degree from the University of the West Indies and has post-graduate degrees in Development Studies and Business Administration from the London School of Economics and ESADE Business School in Barcelona.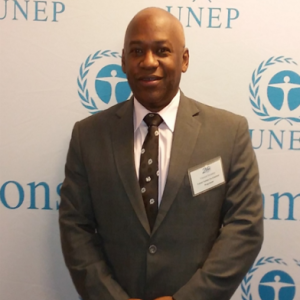 Vincent Sweeney
UNEP
UNEP Representative Caribbean Sub-Regional Office
Vincent Sweeney is Head of the Caribbean Sub-Regional Office for the UN Environment Programme (UNEP) and previously spent 4 years as the Coordinator of the GPA, in UNEP's headquarters. He also served for 10 years as Executive Director of the Caribbean Environmental Health Institute.